This twice-yearly festival of staged readings will feature brand new works by four playwrights. Each reading will be followed by a post-show discussion with the playwright and director.
The Fireside Festival is generously underwritten by Joseph Walters.
Bronzeville Gold, by Anetria Cole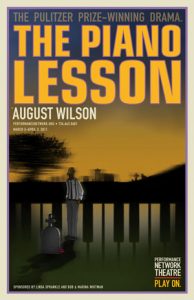 Set in 1933 Chicago, this powerful African American family saga revolves around a "gambling numbers wheel," and a young Mississippi newcomer as he and the entire African American community chase the ever elusive American dream. Willie Jenkins a 22-year-old, African-American sharecropper wants to live the American dream but he knows that living in Tupelo, Mississippi will not afford him that opportunity. But when he meets a street numbers runner from south side Chicago named Cleveland, who promises him the "good-life," Willie jumps on what he feels is his only escape from the south. Will he walk on "streets of gold" as Cleveland has promised him? Is Bronzeville really the land flowing with milk and honey? Or is it all just a dream?. Reserve Now!
Lines, by Jeffrey Allen Steiger
A first for Performance Network! Lines was featured in the 2010 Fireside Festival, and is being brought back after significant script changes were instituted thanks to the festival. Maybe your feedback is featured…?
Sara, a new university grievance investigator, is assigned a case that proves to be far more complicated than it appears. When a professor with a very unique expertise is accused of sexual harassment, tables turn as the investigation becomes less about "he said/she said," and more about Sara. Lines explores the division between thoughts, feelings, and action, and whether those borders are definitive or frighteningly blurry. Reserve Now!
Look Away, by Robert Ford
After being accused of raping two white women, black teenagers Matty and Alonzo flee to a plantation home to escape a growing lynch mob. Convinced that the home's sympathetic owners will help them avert danger, these cautious but hopeful boys revisit their past and plan their future as they await the morning sun that will bring with it their fate. Reserve Now!
Brill, by David Wells with music by Frank Allison
Set in Manhattan's Brill Building during the summer of 1959, an aging Tin Pan Alley songwriter is forced to confront the inevitability of rock and roll when a young woman — with a guitar and aspirations of her own — shares his office. Directed by Carla Milarch, featuring Phil Powers and Sarah Leahy. Reserve Now!
Performance Network Theatre is a member of the National New Play Network, an alliance of not-for-profit professional theatres that champions the development, production and continued life of new plays for the American theatre. PNT has been a member since 2001 and is the only Michigan constituent.