Performance Network Theatre is located at 120 E. Huron St., Ann Arbor, on the southwest corner of Huron and 4th Avenue.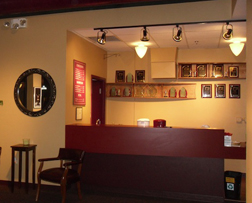 PARKING
View a map of the short-term parking options, provided by the Ann Arbor Downtown Development Authority.
– The parking structure located on the corner of 4th Ave. and Washington Ave. (one block south of the theatre) is available for $1.10/hour, Mondays – Saturdays, and is free on Sundays. Performance Network Theatre is not able to validate parking.
– Metered street parking is free after 6pm and all day Sunday.
– The small PNC Bank lot, located directly next to the theatre on Huron St., is free during showtimes, though it fills up quickly.
– The Washtenaw County Courthouse lot, located across from the theatre on Huron St. and 4th Ave., is free during showtimes.
PRE-ORDERING YOUR BEVERAGES
Performance Network offers a selection of beer and wine at the concession stand for our members. Members are individuals who donate $65 or more each year. If you are not a member, a one-month membership can be purchased for $5.
Members can pre-order drinks to have them waiting at the concession stand for intermission.
Please support our beverage partners:
Arbor Brewing Company
Everyday Wines
Village Corner
RESTAURANT GUIDE
May we suggest the following restaurants for your pre or post-show dining needs.
Arbor Brewing Company – a locally sourced brew pub located one block away.
The Blue Nile – Experience the elegance of a traditional Ethiopian Royal Feast.
The Earle – serving award-winning French and Italian country cuisine.
Logan – contemporary restaurant featuring "New American" cuisine and a great selection of boutique wines and spirits.
The Ravens Club – offering Heirloom Cuisine and Rogue Mixology in a fun, sophisticated environment.
Zingerman's Deli – Serving up made-to-order sandwiches and an exceptional array of farmhouse cheeses, estate-bottled olive oils, varietal vinegars, smoked fish, salami and much more.
Zingerman's Roadhouse – full-flavored, traditional, regional American foods in a down-to-earth restaurant atmosphere.
ACCOMMODATIONS
There are several hotels located in the area including:
The Dahlmann Campus Inn – Offering an unmatched convenience to downtown Ann Arbor. Located 3 blocks from the theatre.
Kensington Court – Full service hotel and conference center. Located 4.3 miles from the theatre, off I-94.
Weber's Inn – Boutique Hotel featuring Restaurant, and Banquet & Conference centers. Located 2.4 miles from the theatre, off I-94.